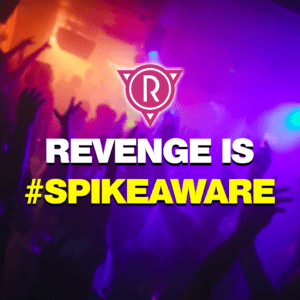 Here at Bar & Club Revenge, we share everyone's serious concern about the tragic increase in drink spiking across the country. We take our customers' safety extremely seriously, and we want everybody who walks through our doors to experience a fun night out – without fear.
Revenge is a safe space for the LGBTQ+ community and their allies, and we'll do everything in our power to make sure that remains the case. We wholeheartedly believe that one spiking incident is too many, so here are some of the things we do at both R-Bar and Club Revenge to keep you safe:
Any drinks that are left unattended will be disposed of by a bartender or SIA security.
Customers can ask for a protective drink cover to go over their glass. This will be free of charge – just ask your server when ordering.
Additional training for all staff for how to look for signs of spiking, or of customers having been spiked
Additional first aid training for frontline staff.
Increased searches upon entry and increased security presence roaming around the venue.
Posters around both venues, warning potential perpetrators about the criminal consequences should they attempt to spike any individual.
We continue to work closely with licensing and Sussex Police and implement any recommendations that come through them.
If you or a friend believe you have been spiked, please let a member of our team know straight away, and we will make sure you are looked after whilst we thoroughly investigate the matter. If you think your drink tastes strange, let our bar team know and we will replace it for a fresh one, free of charge.
If you see anything suspicious around the venue, please alert security or a member of staff. Anybody who is suspected of spiking will be reported to Sussex Police.
If you have any other ideas of what we could be doing, then please message us directly through Facebook or Instagram, or contact our Safe Space & Inclusivity Advisor directly via [email protected] with any feedback.