Brighton Pride at Revenge
Brighton Pride 2023 is on the horizon, and here at Revenge we're putting on another HUGE line-up of events! If you're looking for the best Brighton Pride After Party, you've come to the right place. Here's what we've got going on over Pride Weekend!
Fruity: Official Pride Opening Party! 🍒🏳️‍🌈⁠
We're kicking off Pride this year with Fruity, Brighton's only queer student night!⁠ Hosted by our resident drag host and queen of chaos, Glew, we'll be bringing you alllll that Fruity goodness!⁠
⁠
🍊 Spin the Wheel of Misfortune and win your first drink or shot FREE⁠
🍌 Drag performances from two of our gorgeous drag hosts⁠
🍏 The Fruity Gameshow, live on stage – have the chance to win £50, a Fruity T-shirt, and free entry for yourselves and three friends to the Big Queer UV Pride Closing Party! ⁠
⁠
PLUS – ⁠
🫐 £3 drinks before 1am*⁠
🍇 £4 double + mixer before 1am*⁠
🍎 £4.50 drinks / double up for £2 after 1am*⁠
⁠
Limited fast-track tickets are still available from our website.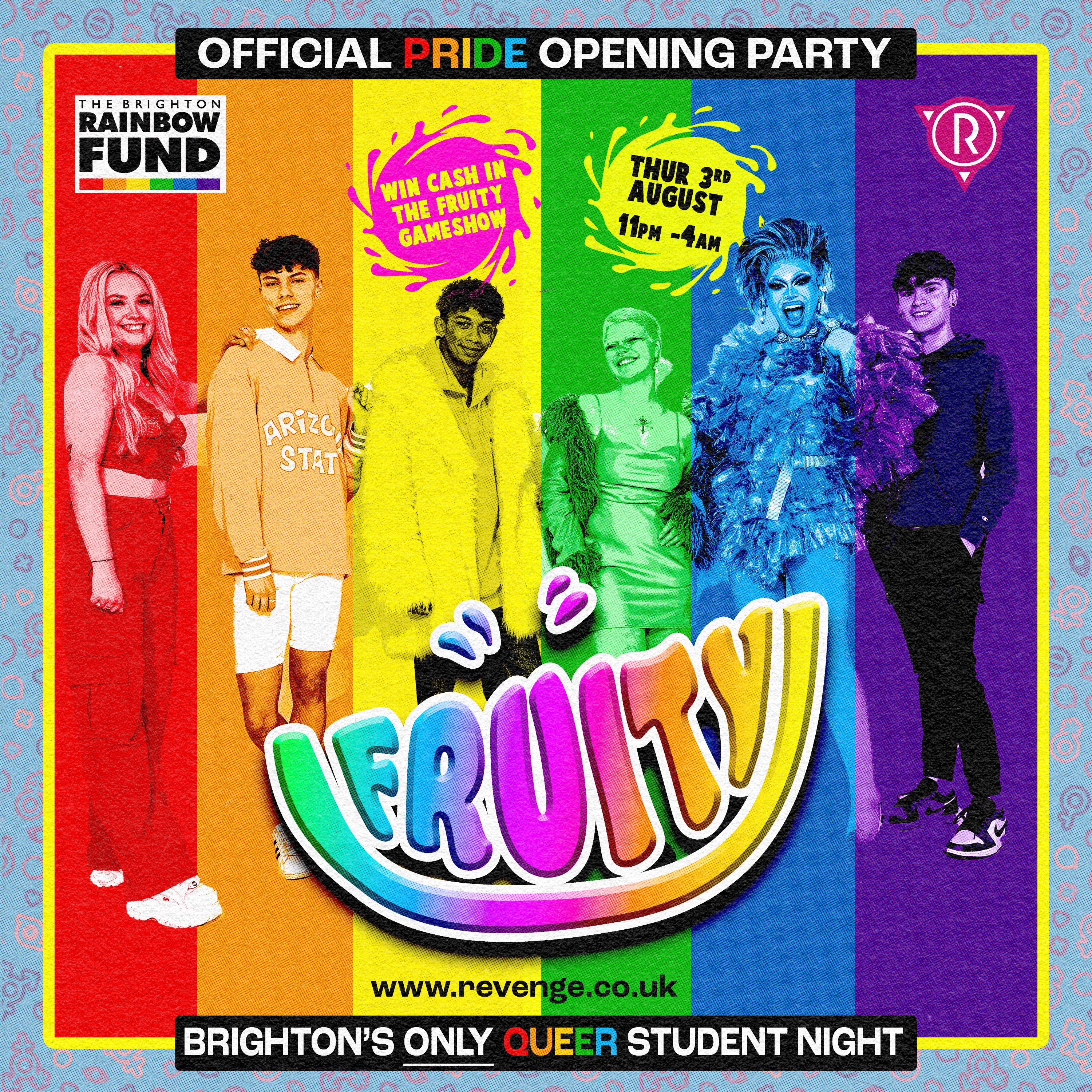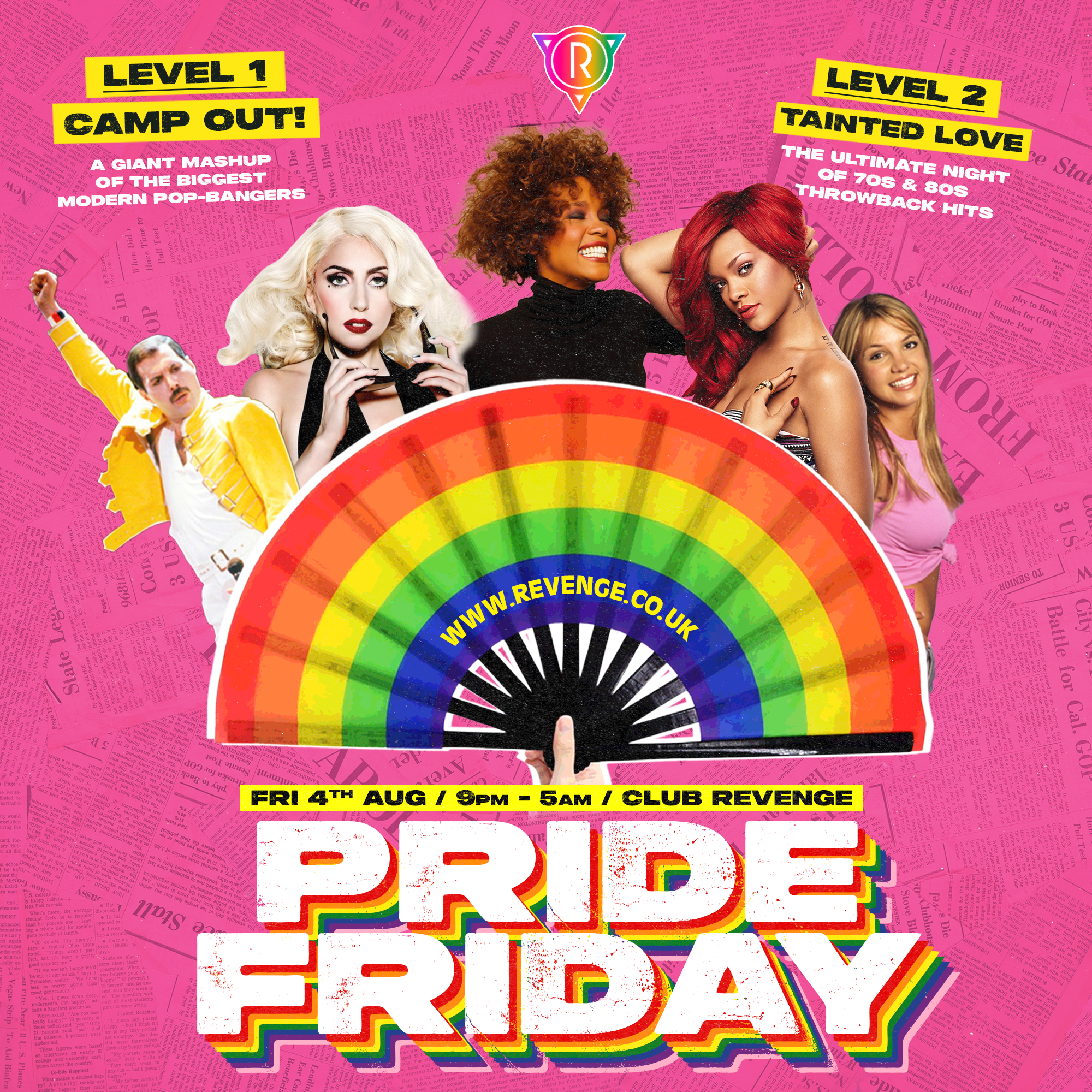 Pride Friday: Camp Out vs Tainted Love! 💄⁠
We're embracing all things camp on Pride Friday with Camp Out vs Tainted Love! ⛺️👩‍🎤⁠
⁠
Revenge's resident DJs will be serving up a cheese-filled and nostalgia-fuelled night of all the sing-a-long classics, throwback anthems and slut-dropping favs for a truly unpretentious night of uplifting fun!⁠
⁠
Expect gorgeous shot queens & drag hosts, and free inflatables!⁠
⁠
The queues will be long, so head to our website for fast-track entry tickets. ⁠
Pride Saturday: The Big One 🏳️‍🌈🏳️‍⚧️⁠
IT'S THE BIG ONE. 🏳️‍🌈⁠
⁠
Brighton's biggest LGBTQ+ venue is hosting the biggest party of the year – it's Pride, baby! 🌈⁠
⁠
This Pride Saturday you can expect stunning drag queens, top UK DJs, and wall-to-wall rainbow madness! ⁠
Level 1 – Non-stop pop anthems & pride bangers!
Level 2 – Hands in the air house music
⁠
Advanced tickets for Pride Saturday have now sold out. We will have plenty of tickets available on the door but we'd recommend arriving as early as possible to avoid long queues.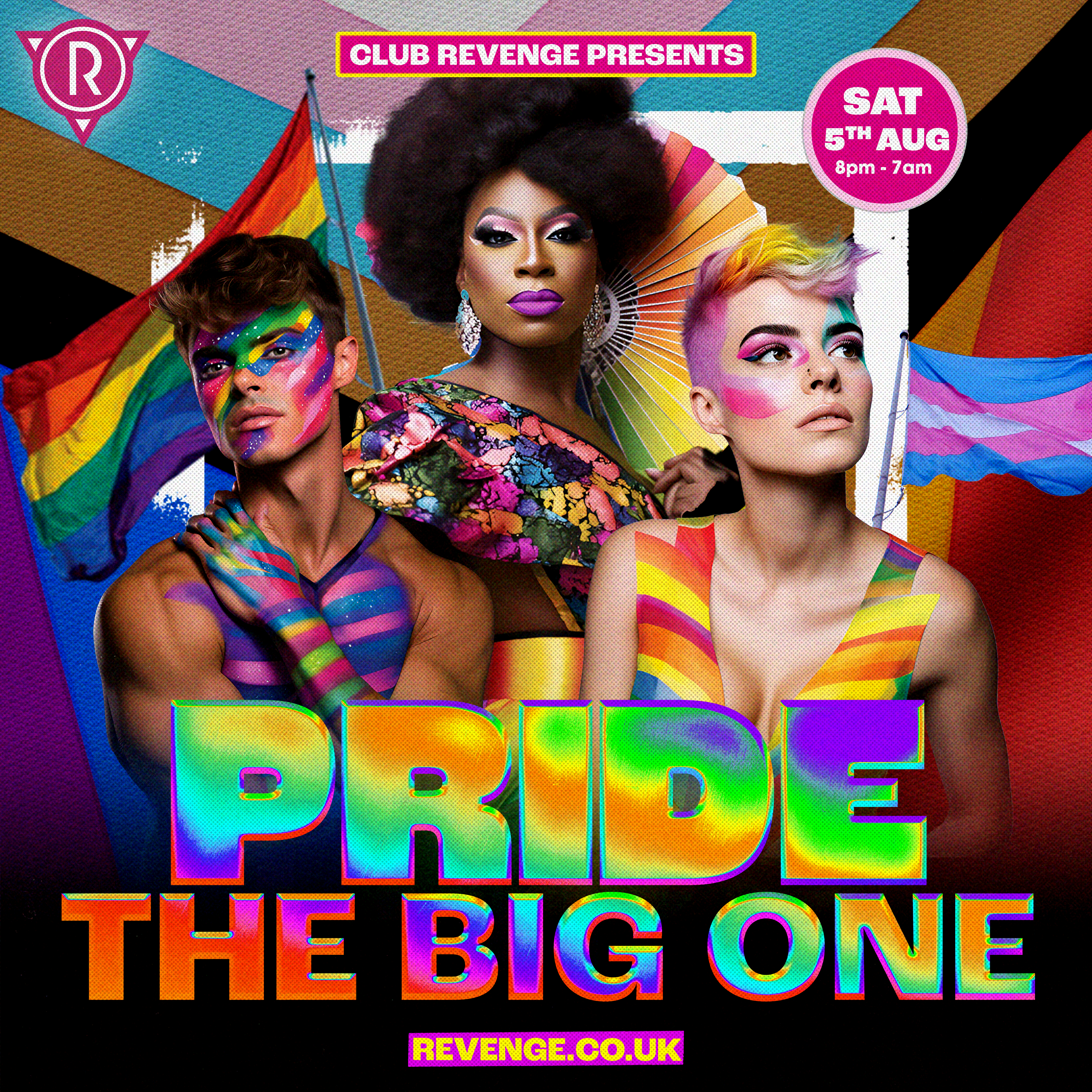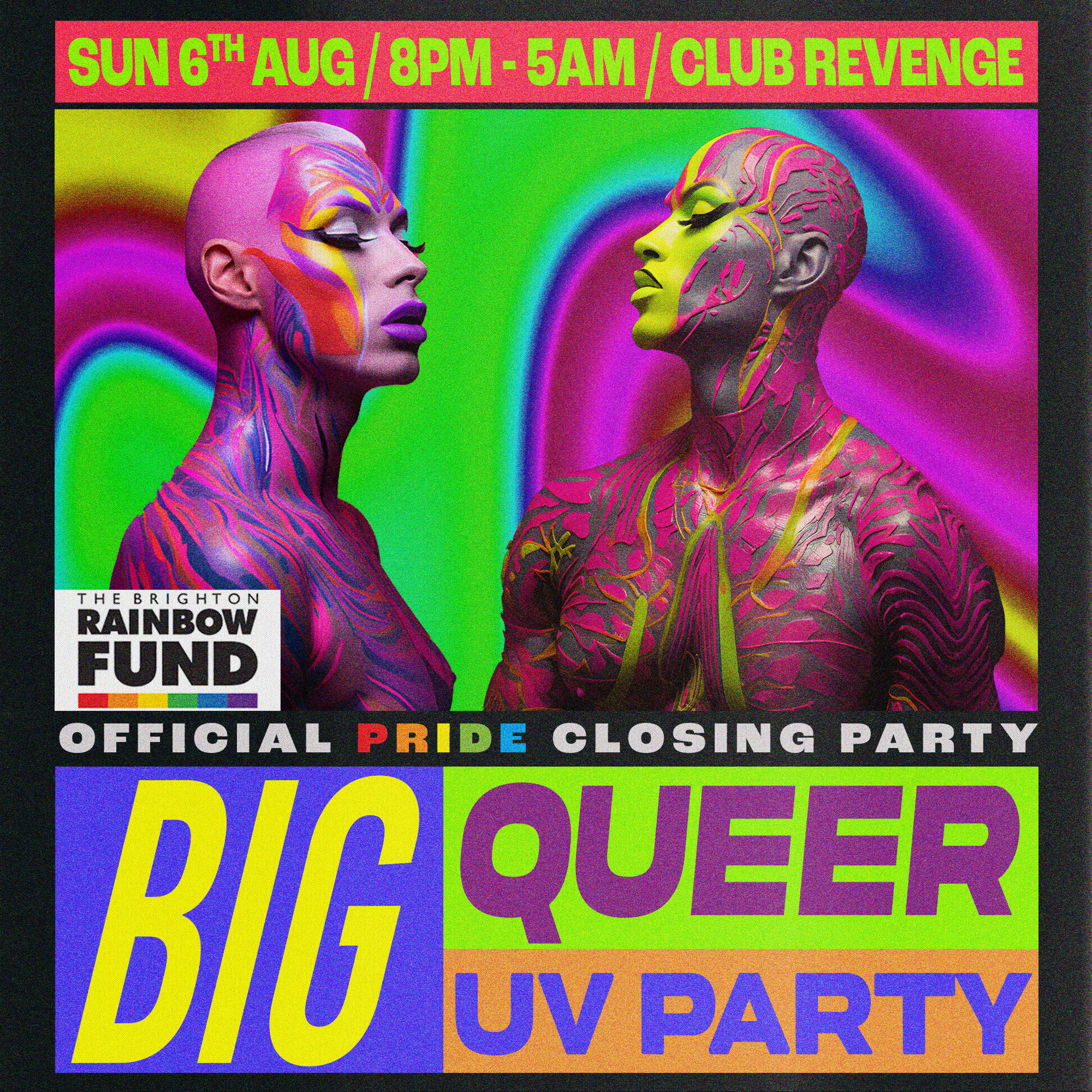 Pride Sunday: Big Queer UV Party! (Official Pride Closing Party) 💄⁠
We're closing Pride with a bang at Club Revenge, join us straight after the Pride Village party for the Big Queer UV Party!
With a Fruity takeover on Level 1, Level 2 will be transformed into a state of the art laser cave, giving you the ultimate UV clubbing experience!
PLUS:
 Free glow sticks
 Free rave shades
 Free LED batons
 UV Face painting